Resort Fees on the Rise
Resort fees are charges imposed by hotels in addition to the basic room rate. They are usually mandatory, although sometimes optional, and are usually charged by larger 'resort' type hotels. They often include additional perks such as access to hotel amenities (internet, spa and fitness center, hotel pool and pool amenities) or complimentary drinks, newspapers, coffee and so on.
Most resort fees are mandatory and are on a per room, per night basis. Resort fees can range from as low as just a few dollars per night to over $30. Because they are mandatory, hotel guests often feel that they are used as a way to make the nightly rate appear lower than it actually is. A room at $70 per night with a $30 resort fee is no different than a $100 per night hotel with no fee.
Unfortunately, resort fees are not going away. While they are disclosed at the time of booking, would-be hotel guests have to journey deep into the booking process just to find out how much hotels charge. This makes it difficult to comparison shop by price.
Resort Fees Are A Growing Trend
The graphic below depicts the interest in "resort fees" as indicated by the frequency of searches in Google.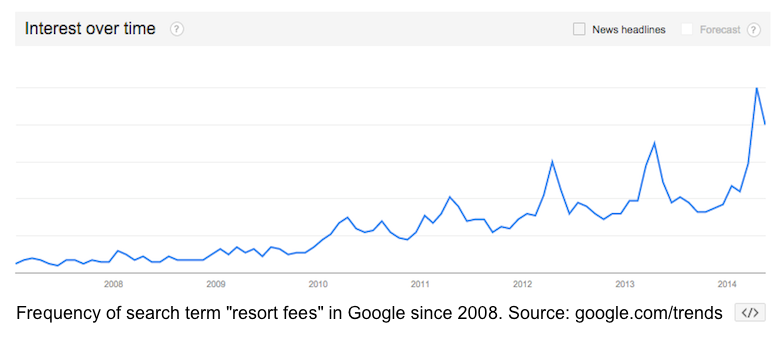 Resort Fee Lookup Tool
ResortFeeChecker.com is a tool that lets travelers quickly and easily look up resort fees at over 2,000 hotels worldwide including popular destinations such as Las Vegas, Orlando, Anaheim and Hawaii. It includes information about the amenities and other perks that may be included in the included in the fee.
By providing this information, it is our hope that travelers can make a better informed decision before booking their next vacation.
Global Travel Innovations Inc. is a privately held company located in Victoria, Canada. We specialize in building web tools and technologies to help travelers make better decisions about their travel plans and purchases. Please check out our other site, HotelDealsRevealed.com, an online community to help travelers reveal their Hotwire and Priceline hotels before booking.